I always thought the nature of blogging, especially for opinion pieces or rants, is to offer information, advice and views which can vary from support, to tackling controversial issues. Blogging is also a medium where you can partake and involve yourself in differing opinions and discussions even if you can disagree vehemently with an issue or a person. However, I do find it really ironic and even hypocritical when I came across this post from a YA author this morning ( I have attached screencaps because the author in question has locked her post) who has claimed that aspiring authors shouldn't rate books or review books on Goodreads because it will bite them in the arse. But it's okay to post 5 star reviews because being positive is fine, but never ever EVAH go into that dark abyss of the 4 star rating or even worse below that. The arse-biter is going to get you! This is a familiar protestation which a few YA authors have repeated in the last few months, such as Becca Fitzpatrick infamous 'Be Nice' post and I have to wonder if there is some nefarious cult that has infiltrated this group of genre authors because they seem to be lately singing from the same hymm sheet. However, that isn't to say other authors from other genres haven't blasted or berated other authors who have reviewed or rated books on their blogs or review sites. I also doubt this will be the last of this issue that will crop up because there will always be another author offering advice on how not to blog or review publicly about books and will rehash this sorry argument.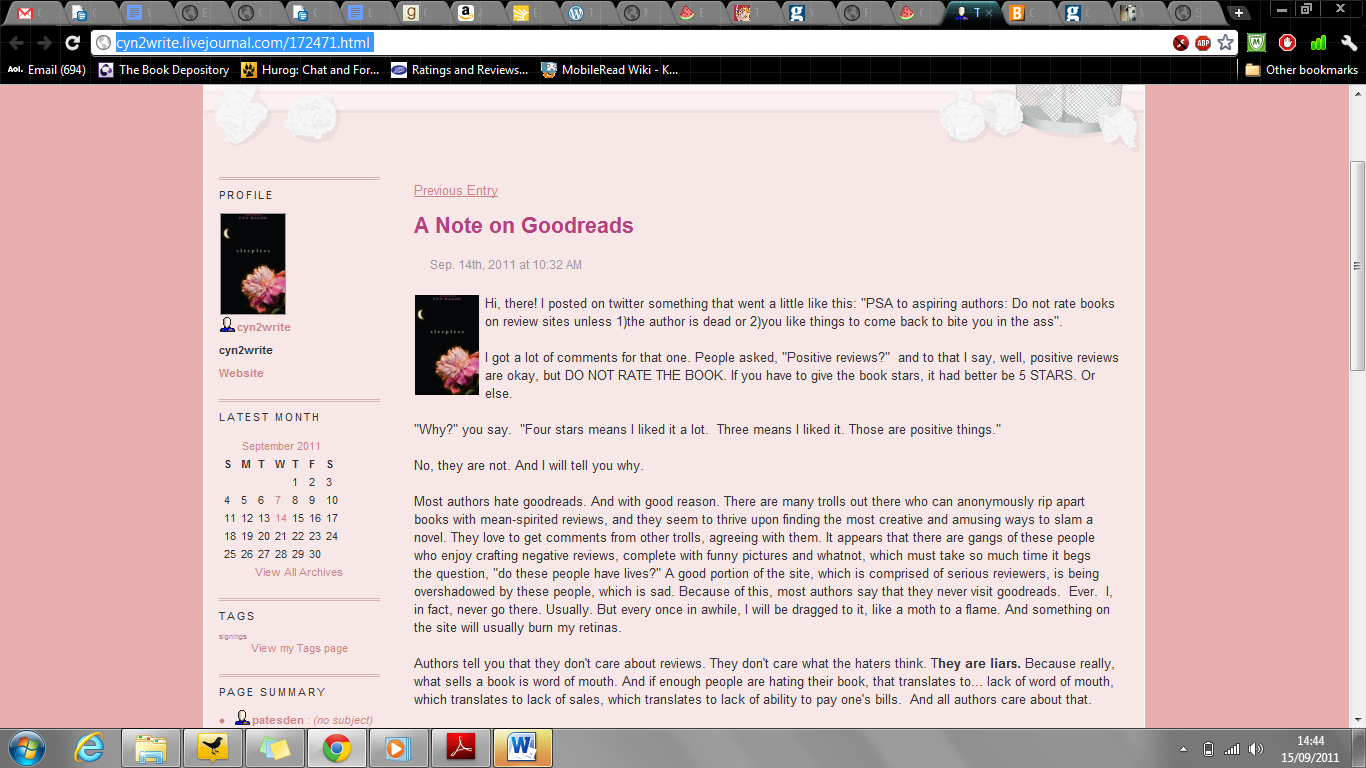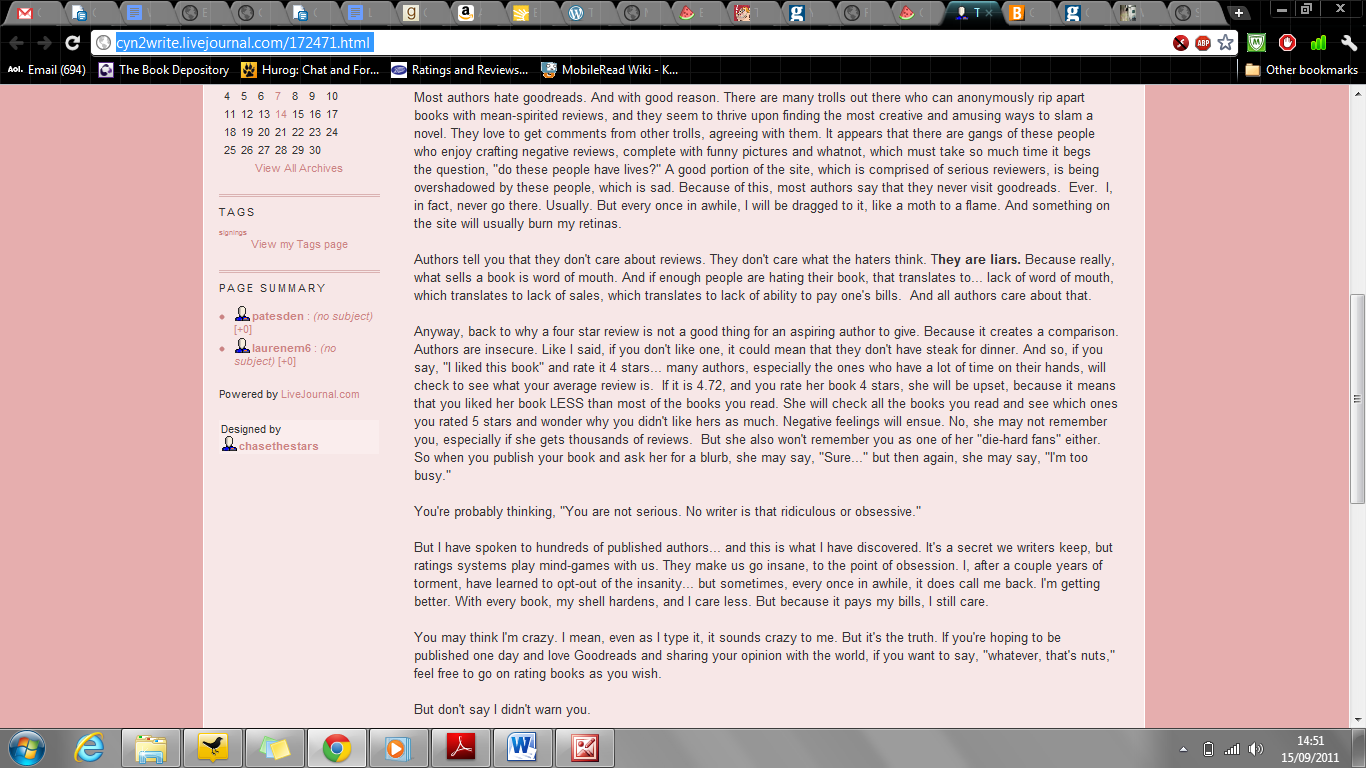 For me, if an author or an aspiring author wants to write a review or rate a book a measly 4 stars, or shock horror, the worse of the worse which is below 5 stars, or even lower then they should. The only thing I would not agree with if a reviewer — and that goes for all professional writers, authors or the aspiring writer — is insulting or being personal about the author they are reviewing. Some reviewers can be snarky and they can also can be serious, and some of the best reviewers I follow can be both. Different books can bring out different reactions and that's the point of reading and reviewing a book. It is personal, and how the reader responds to a book is unique, and I find it hard to accept advice from people who feel that only positive reviews is the way to go because you wont offend anyone in the future and get that bite from the arse. When a reviewer posts a review they may know and expect to get a reaction from their review, as long as they state why they didn't like or disliked the book — and yes it can be snarky — there's nothing wrong with that.
This author had the right to post her own opinion about Goodreads and authors rating books below a 5 star rating or reviewing a book negatively because that arse-biter is out there. But she didn't have the guts to keep her post up publicly, and to respond to those who disagreed with her opinions. And when I checked this morning when it was up publicly, the comments were screened. If she felt so strongly about this, why hide behind this shield? And isn't it hypocritical that she won't stand by this publicly but can blast those snarky reviewers who have had their share of dealing with negative reactions. I think she lost her argument there and then. But seriously I am sick and tired about this issue. I would have ignored this but she hid this entry on her Livejournal — presumably, screening her comments didn't work out the way she thought. It also confirms my suspicion that she was being disingenuous, and was using this as an excuse to hide the fact that people have reviewed her books negatively and this is the main cause.
So here's my advice to any budding reviewers who may or may not be aspiring authors, write the best and honest review you can write about a book. There is no wrong way or right way, but as long as you are not insulting the author, their personal life, or even their readership and you back up your thoughts it is all good gravy. It's up to the aspiring author in question if they are comfortable posting negative reviews, or only positive ones, but no other author should make them feel bad or put the scares on them for not toeing the 'let's all be nice' because it's downright a shitty thing to do. This author may want reviewers to be like Harriet Klausner and to avoid that arse-biter monster who will come out to get you somewhere in the future, because you didn't like the fact the hero was a bit of an arse (hey, there is a reason why it is called the arse-biter). I think this mysterious arse-biter only bites those who can't stand by their posts, thoughts or books.